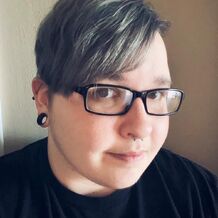 Heather (a.k.a. MissGunsForHands or "Hacksaw Heather") joined Renegade Media Group on October 1st, 2018 by accident. She streams weekly during Renegade Game Time and appears in Renegades React occasionally. She is also shown movies or TV shows on the series Heather Hasn't Seen.
She has a Sphynx kitten named Arya, who was born on March 24th, 2018. She also has a daughter, Skylar, who was born on March 28th, 2012. Her birthday is February 28th, 1996.
Heather loves bothering Ben, blowing up Megaton, Mothman, and My Chemical Romance.